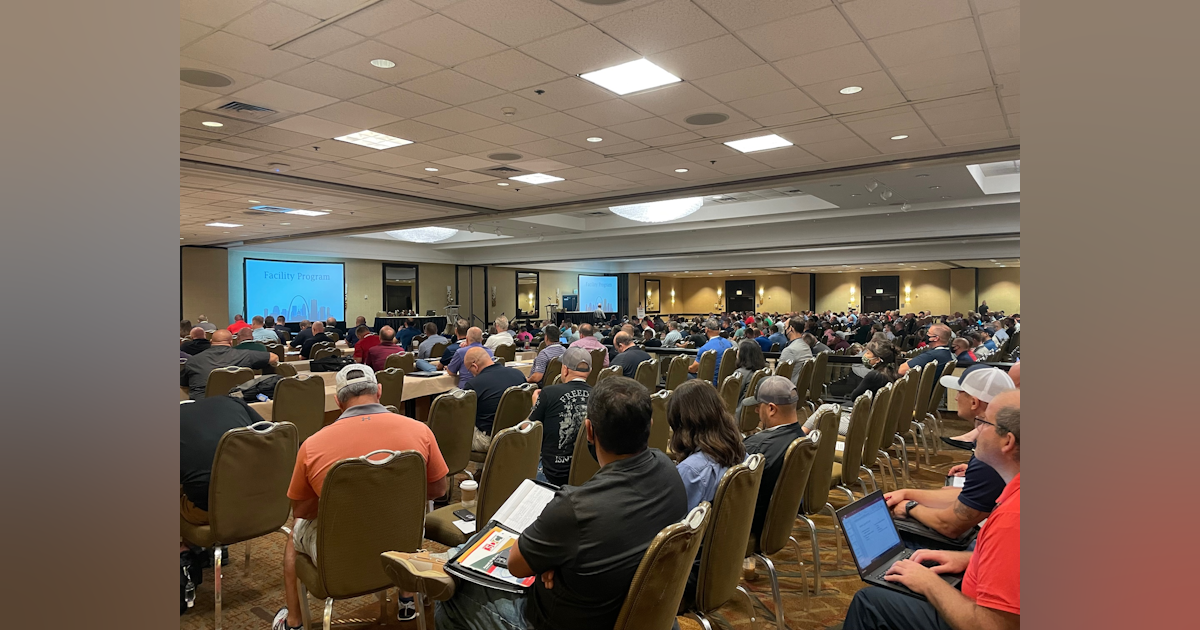 2022 Station Design Conference Preview
The construction of a new fire station has changed significantly over the past few years, and the evolution seems destined to continue for the foreseeable future. Even construction plans that were drawn up just three years ago might need updating.
Since 2000, firefighter, EMS and law enforcement jobs have become more dangerous. Viruses (H1N1, MRSA, COVID-19), civil unrest, natural and man-made disasters and excessive stress on mental health are the main culprits. Therefore, decontamination areas, increased security, increased training and reduced budgets should be at the top of your priority list if you are considering building a fire station.
The 2022 Station Design Conference, taking place May 23-26 in Rosemont, IL, will feature more than 30 programs designed to help you design the right facility for your service and the community it serves. Speakers include fire chiefs and officers experienced in new facility development as well as key leaders from architectural firms specializing in public safety facilities.
To start

The general session begins May 24 with an overview of the design and construction process for a station or facility in 2022 and beyond. Kenneth Newell, AIA, of Stewart-Cooper-Newell Architects, will share his expertise in an effort to provide a solid foundation of knowledge about public safety installations. His talk will undoubtedly prepare you for the large-scale conferences that will follow.
Since starting a new project brings questions from the community and city leaders, many conference presentations will help prepare you to answer those questions. For example, one session will explain the benefits of investing in a study. Another key to the fundamentals of creating a building program.
Sixteen afternoon classes on May 24 are divided into four tracks. Two focused fire stations, one focused on law enforcement and a fourth lane, the first of its kind, focused on co-located facilities, EMS complexes and emergency operations centers (EOCs). Each track is open to all participants.
Stations & firefighter health

Perhaps the most significant change in fire station design was the introduction in 2015 of the hot/hot/cold zone concept, with the aim of reducing firefighter exposure to carcinogens in the station.
"Designing for Exposure Reduction and Contaminant Control in Fire and EMS Facilities," which will be presented by Katie Atwater, AIA, and Christopher Kehde, AIA, of LeMay Erickson Willcox Architects, will feature case studies and lessons learned from creating Hot , Hot and cold zones in new and renovated facilities, the development of which involved the Atwater and Kehde agency. This includes the design of the new three-story Fire Hall No. 33 for the City of Fairfax, Va., which, due to the constraints of a 0.95 acre site, required the dormitory areas (kitchen, hall common, dining room, bedrooms with bunk beds) to be located on a third level which spans the station apparatus bays.
FEMA-funded research on the physical and mental health of firefighters over the past three years is the focus of several breakout sessions. Three of these sessions focus on sleep deprivation studies, an update on post-traumatic stress disorder, and health-focused design changes to the device bay, respectively.
Combine to reduce costs

As local governments across the country tighten their budgets, their need for appropriate and secure public safety structures continues. Consequently, the incidence of multi-service public safety facilities (fire, law enforcement, town hall, etc.) has increased.
James Stumbo, AIA, of Stewart-Cooper-Newell Architects, will follow up on his presentation at the 2021 Station Design Conference regarding options for achieving significant cost savings by co-locating public safety facilities with "How to Plan and design a successful shared public safety facility". This will include an explanation of how collocated facilities serve to improve the working relationship between firefighters and law enforcement.
The Fridley, MN, Police Department and Fire Department co-location case study, which was designed by the BKV Group, is sure to spark ideas for attendees. The facility's design, which received a bronze award in Firehouse Magazine's 2019 Station Design Awards, includes a shared training room that can function as an EOC.
Opportunities for cost savings are also discussed in sessions from firefighter case studies that involve design standardization (prototypes) – whether retrofitting or building new – as well as how to renovate a barracks while remaining operational.
Susan Gantt, AIA, of Architects Design Group, is also back this year. Those familiar with Gantt's in-depth essay on the effects of climate change, including sea level rise, ice storms, hurricanes and tornadoes, on fire station design from 2020 might be surprised to learn that an update of this information is already necessary. Gantt will present "Designing Public Safety Facilities for Climate Change".
A related conference program will look at the International Building Code for storm shelter requirements.
NECK and EMS

Natural and man-made disasters require EOCs to coordinate multiple community agencies and services. Feedback from attendees at the 2021 Station Design Conference included requests for presentations on EOCs. The organizers of the 2022 conference have taken this to heart.
If a new or upgraded EOC is your goal, Jannine Wilmoth, PhD, who is the Emergency Manager for the Anaheim, California Fire Department, will walk you through what's needed to move your plans forward, and Ray Holliday , AIA, from Brown Reynolds Watford Architects, will focus on the necessities of a small fire service EOC.
Attendees at the 2021 Station Design Conference also expressed interest in information about EMS installations. Ask and you shall receive, we say.
"Centralizing EMS Operations to Improve Community Service" will be presented by Chief Kelly Cope of St. Charles County Ambulance District in St. Peters, MO, and Roy Mangan, RA, of Archimages.
Return on investment

Don't let your new fire station design be obsolete before it's built. Whether you're just starting to consider a new facility or are thrust into a construction site, Station Design Conference 2022 will show you how to save time, money, and headaches on your fire station or facility. new or renovated public safety. We promise.