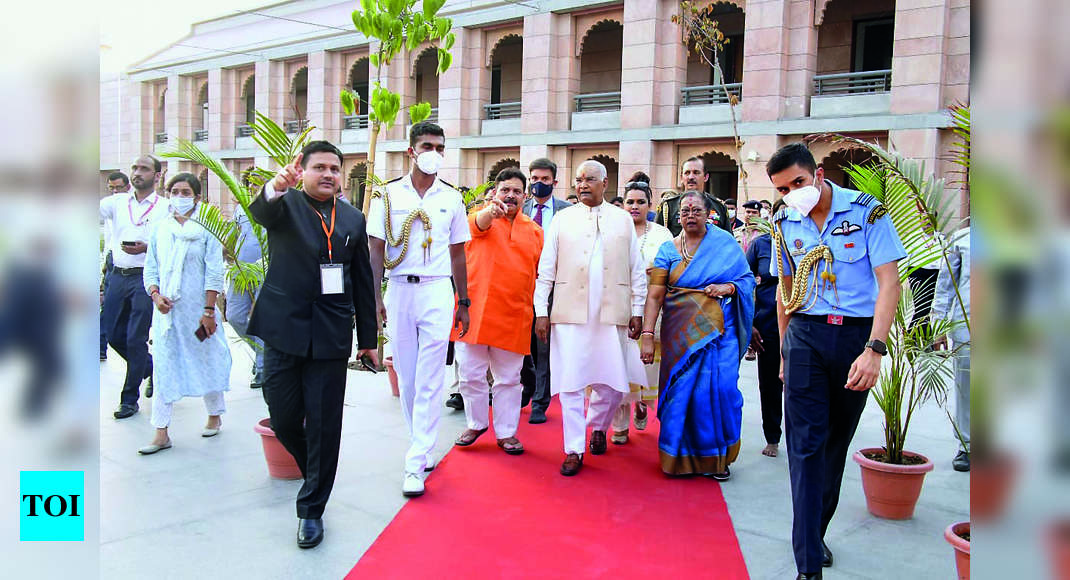 kashi vishwanath: Prez Kovind offers prayers to Kvt and visits new corridor | Varanasi News
Varanasi: President Ram Nath Kovind performed puja and offered prayers at Kashi Vishwanath Temple on Sunday. He also visited the new Shri Kashi Vishwanath Dham (corridor).
The President landed at Lal Bahadur Shastri International Airport, where he was greeted by UP Governor Anandiben Patel, UP Ministers Anil Rajbhar and Ravindra Jaiswal, MP BP Saroj, District Magistrate Kaushal Raj Sharma and others.
From the airport, the president checked into the Benares Locomotive Factory guesthouse for a brief stay before heading to the temple. BLW Managing Director Anjali Goyal greeted the President upon his arrival at the BLW guesthouse.
After a short stay at the BLW guesthouse, the president proceeded to Kashi Vishwanath temple and performed the puja at the sanctum sanctorum. After the puja, he also visited the newly developed hallway. He left for the airport after seeing the corridor.
In view of the President's visit, senior police officials took stock of the security arrangements. Elaborate security arrangements have been made with the deployment of the police force and PAC personnel. Police personnel have remained on patrol since Saturday and carried out an extensive control campaign. CRPF Director General Kuldeep Singh and other officials also inspected the security of Kashi Vishwanath Temple and Gyanvapi Mosque on Saturday.
In March 2021, the President and his family visited the city and participated in 'Ganga Aarti' at Dashashwamedh Ghat and offered prayers at Kashi Vishwanath Temple.
He was then accompanied by Governor Anandiben Patel and Chief Minister Yogi Adityanath. During another visit in March 2018, the President laid the groundwork for many major infrastructure projects, including the second phase of the ring road and the upgrading of the Varanasi-Hanumana national highway.