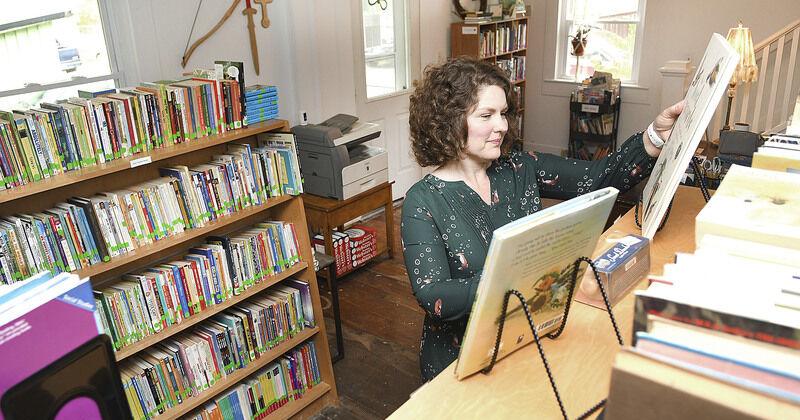 Local residents transform Helen's house into community space and library (WITH VIDEO) | News
The old mining town of Helen was once a bustling place, with a boarding house, company store, clubhouse and even a movie theatre.
Although these storefronts are no longer open, a local resident is working to ensure that the sense of community instilled by these places is not lost as well.
That was the intention behind the Helen Living Library, which opened in January and was born from the imagination of Amanda Moore.
"Helen Living Library is meant to be a community center," Moore said. "So we offer books, but we also have a closet full of puzzles, an art room where people can come and do projects or play board games. We have a shelf full of board games. Our goal is to make it a living community center. A place where people could come and share life together.
Moore said the idea to open a library in Helen, where she has lived with her husband and four children for 14 years, came from an old radio soap opera her eldest daughter had listened to called 'Adventures in Odyssey'. .
Moore said much of what happens in the radio drama centers around a place called Whit's End, which features an ice cream shop, train room, fantasy station and more. As the stories progress through the radio drama, Moore said Whit's End becomes something of a community center.
"It inspired me," she said. "To just have a place where the community came together, for one thing, and then shared resources, of course, and shared experiences."
Although she never knew how to achieve that vision, Moore said she often joked with her husband that she might open a library one day, having amassed nearly 1,000 books over the years. years through home schooling of her children.
"After homeschooling for years, we kept a lot of our books, which to me have become like treasures, even though I wasn't a reader when I was a kid. I didn't like books growing up," she said.
"But these books were in the attic, and I was like, 'I want a place where I can put them and they're accessible.' And then I also thought, well why not do this in a place where the community could come in.
Moore said she originally considered opening a library in her home, but thought it might take away from the community center of the feel she hoped to create.
Then, in 2017, when the house next door became available, Moore said she saw it as a sign that it was time to bring her vision to life.
"After years of almost nudging my husband by joking and saying, 'I wish I had a library,' this house came up for sale in 2017 and we bought it and started the renovations, which took us some time," she said. "We were slow because we're not very handy and we just did what we could do."
Moore said she also reached out to family members and friends for help, adding that much of what is in the Helen Living library today, from books to furniture to craft supplies, came from donations from the community.
"In fact, a friend of mine from high school did a book drive without me even realizing it," she said. "And then he contacted me and I think he brought around 1,000 pounds here."
Moore said she was still somewhat in disbelief as to how it all turned out. She said she also couldn't be happier that the books that were once stored in her attic are now out in the open, where they belong and can be enjoyed.
"It's exciting," she said. "In a way, it's like reliving the initial relationship my own children had with books. And then I see children come in and I can recommend them. And honestly, it might sound a little weird, but I look at the books that have been borrowed and I'm glad to see that the kids in the community are reading those books.
Moore said the Helen Living Library operates much the same as any other public library, but with an added personal touch. She added that all the services she provides at the library are completely free.
From the outside, the library looks like any other house in the neighborhood except for the "Helen Living Library" sign painted on the front. Moore said the house was originally built in the 1920s and was built for local coal company foremen or bosses.
Inside the library, the first room on the ground floor contains the majority of the books Moore has collected, which are organized by genre on a row of shelves.
Moore said she tried to think of a clever name to call this particular room in the library, but instead decided to just call it "The Great Hall."
Connected to the Great Hall is the West Virginia Room, which contains West Virginia-themed books as well as books by West Virginia authors. This room also contains joke books and comics as well as newspaper comics.
Next to the West Virginia room is the kitchen, which Moore has stocked with cookbooks and health-related books. This room also has a closet full of puzzles and a large kitchen table.
The second floor of the house contains three themed rooms: an art room, a music room, and a little tikes room which also contains picture books.
Located at 111 Silverdale Court in Helen, the Helen Living Library is open 4-6 p.m. Tuesday and 12-3 p.m. Saturday.
Moore said she plans to add hours during the summer after school is out so parents have somewhere to take their kids during the week.
Moore also plans to organize activities for children, including crafts and games and possibly outdoor movie screenings. The times and dates of these activities as well as any updates to the opening hours will be published on the library's Facebook page, https://www.facebook.com/Helen-Living-Library-248137285859615.
Moore said they are also on Instagram, @helenlivinglibrary.
Moore said she has myriad ideas and plans for what she'd like to do next at the library, but for now she's hoping to spread the word and let people know what she's got to do. to offer.
"My primary focus is to serve the people closest to us," Moore said. "I don't really envision or imagine people driving 40 minutes to come to our library, although I wouldn't object if they wanted to. But I would just like to see the kids in this neighborhood, who don't necessarily have a place to do art, or take music lessons, or just come read books, come in and be a part of what we have here.