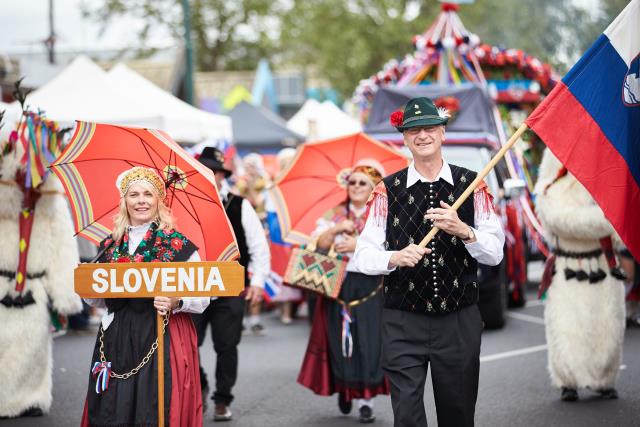 Ash bolt
Pako Festa will be back in 2022, but it will be very different from usual with the festival moving from Pakington Street.
Multicultural organization Diversitat has announced that the 40th edition of the street festival will be moved from its traditional home to the Northern Community Hub in Norlane due to COVID-19 requirements.
The festival will feature traditional food stalls, a celebration of diverse cultures, entertainment, and a new twist on the traditional parade.
The parade was canceled for the first time in its history in 2021, with a scaled-down format featuring different cuisine and entertainment around Geelong taking its place.
Diversitat CEO Joy Leggo said coming back to have the community come together in one place for the festival was the perfect way to celebrate Pako Festa's 40th anniversary.
"We are delighted to mix things up next year and give a new twist to what has always proven to be a very successful public event for Geelong," she said.
"Next year we will be offering a big stage with a 'traditional costume parade' to allow our communities to proudly show their colorful cultures to the wider communities of Geelong."
Ms Leggo said using the Northern Community Hub would make for a safe but fun event.
"We are delighted to welcome this event to its new location as it opens up a myriad of possibilities," she said.
"The format of this 'new look' event strikes the right balance: it is a great celebration at a key site for the diverse communities of Geelong, while ensuring that we can organize a safe and compliant event. state government requirements.
Sharing the news on social media, the Pako Festa committee said it was not possible to hold the festival safely on the streets as usual, but the format change would not be permanent.
"We look forward to bringing the event back to Pakington Street – hopefully in 2023 – as soon as regulations and restrictions ease, we intend to bring it back to its original location.
"Change is inevitable these days and with COVID-19 and vaccinations playing a key role in public events, we need to make sure that safety is our number one priority for all event guests.
"Until we can bring it home to Pakington Street, we will make the most of this new opportunity for Pako Festa to be in this fantastic new location."
The Northern Community Hub is an important location for the diverse communities of Geelong, with the federal government establishing the British Migrant Hostel on the site in the mid-1940s.
The site hosted migrants of many different nationalities and was later renamed Norlane Hostel, the site serving as a temporary home for thousands of migrants in the 1950s and 1960s.
"In many ways, we see this as the return of Pako Festa to his home, to an important site for the various communities of Geelong and a location that offers us many possibilities," said Ms. Leggo.
"Our plans are still being finalized, and we are working closely with the state government and ensuring that our event format is flexible to accommodate COVID restrictions as they change.
"People won't need to book online to attend the event, and as always, Pako Festa is a free community event."
Pako Festa will take place on February 26 and all participants will need to be fully immunized.
To mark the 40th Pako Festa, 40 portraits representing Geelong's diverse communities will be hung in the market square as a free public exhibit, while the Pakington Street Arts Trail will also return for 2022.
Pako Festa also creates a cookbook to celebrate the 40th anniversary of the event, featuring some of the most popular dishes from the various communities of Geelong served at Pako Festa since 1983.
Details: pakofesta.com.au.