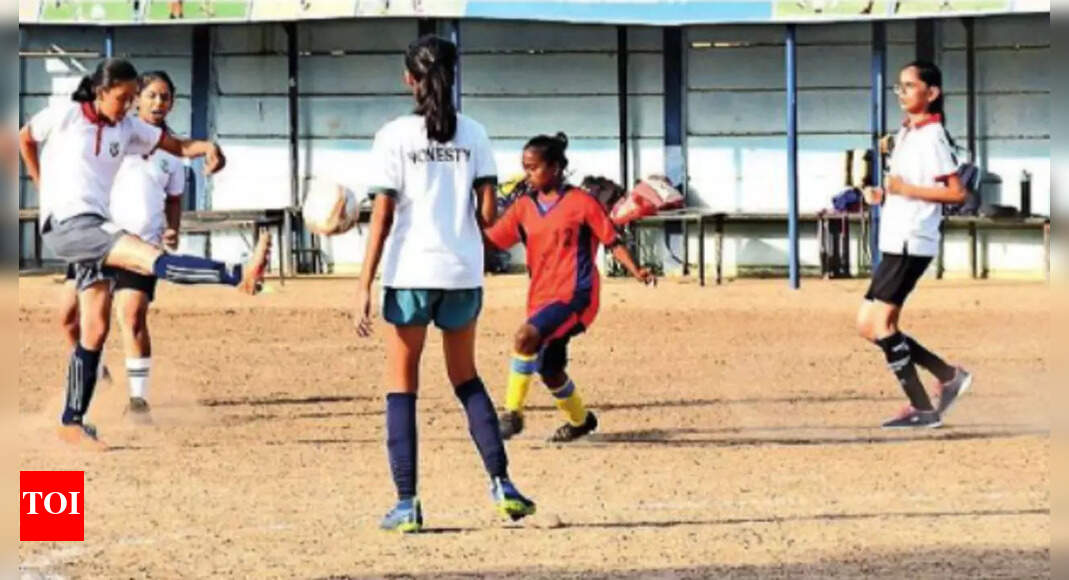 The Beautiful Game of Life: Trails to Football Glory | Ahmedabad News
As she dribbled the ball during the tough times of the state level football championship final held recently in Vadodara, a flood of memories of her life on the trail flooded her mind. But 16-year-old Jyoti Lodhi brushed them aside, ran towards goal and scored the ball, sending his team into a wild party.
Dozens of matches were played in the 5th KK Vithani Memorial All Gujarat Invitational Football Tournament. But BFA Pathshala's 5-0 triumph over Delhi Public School won the crown as an encounter that shows resilience can eliminate disadvantage.
As for Jyoti, she had scored not one but two goals with that final kick: one which left the spectators stunned and the other which she had set herself – achieving a feat so rare that it dissolves the stumbling blocks that made achievement impossible in the first place.
It was a special occasion for Jyoti and her team of girls from poor families. Having spent their childhood in abject poverty, when they found themselves facing the students of the renowned DPS, Kalali, winning was not a choice. The girls had to prevail to keep believing that if they thought they could do something, they really could. They were initially nervous because the game was considered a David and Goliath contest. And the girls rose to the occasion. "It was one of the best moments of my life. I felt like I had accomplished something important and my confidence was at an all-time high," a delighted Jyoti, who won the final, told TOI. player of the tournament award. The team that won the championship trophy had started playing football
only four months ago. Some of the girls had never kicked a ball or even seen a football game.
"It was my idea to introduce them to football and have them play in a competitive tournament. Football is a game where you learn to play as a team, bond with each other and trust your teammates," said June Dutta, chairman of Srotoshwini Trust which runs the Pathshala project. The project provides free education to children from disadvantaged sections of society. Dutta added: "I wanted the girls to master the skills that will help them take on the world. head on and to persist through the trials."
Dutta went on to say, "The idea was also to facilitate their mental and physical development. Sports are one of the best ways to learn interpersonal skills, which these girls need the most. So I contacted Baroda Football Academy who sent their coaches to train the girls. "She admitted that she never expected the girls to win the championship.
Despite their background, their confidence was intact. "You have to learn the technique of the game and some of them had to really work on it," Dutta said. "I felt that even if they won a game or two it would be great. But they won the tournament. I'm so thrilled." Dutta watched the final from the stands. The girls had been training for four months on the grounds of the inn built by Dutta's.
Tejal Parmar, 14 (goalkeeper)
When she recently traveled to her village of Jamnagar, Tejal was "stalked" by members of her community and neighbors to get married. "In our part of the state, child marriage is rampant. My community didn't want me to go back to Pathshala, but I gave up," said Tejal, the daughter of day labourers. She added, "I was clear that I wanted to study and my parents supported my decision." Going against everyone's wishes, she left her village and returned to Vadodara.
"When I was a child, I saw the boys in my village playing football. Once, I too joined them, but I was reprimanded by the elders," she said. "My dreams came true when Navprerna school, where I studied earlier, honed my football skills. Look where I am now! Tejal was the goalkeeper for the Pathshala team. She too wants to become a cop to be able to "end child marriage and empower women".
NGO in Savli taluka
"I play them in the sun and train them to be tough," Dutta said. "I don't pamper the players a lot and that's why their stamina on the pitch was much better than their rivals. "
About 98 girls and boys from poor families live in the home, which provides them with free education and food. "Some are the children of rag pickers and construction workers and many of them live in the slums," Dutta said. "They all celebrated this spectacular victory in the
hostel
like a big family."
Sandip Desai, who leads Baroda Football Academy, said: "The BFA Pathshala girls were inspiring on the pitch as they took on their opponents with panache and authority. "The academy had organized the tournament. Desai added: "They were fearless and it was a pleasure to see them in action. Our coaches trained them. "
Desai said the idea behind including teams made up of children from poor families was to give them a platform to show off their talent and integrate them into society. "We do this as part of our corporate social responsibility (CSR) activity in which underprivileged children are not only coached but also provided with free football equipment," Desai said. This sweet victory reinforced Dutta's aspirations for these girls. "I hope some of them will go to the national championships and win the game for the team," she said.
Jyoti Lodhi, 16 (forward)
The 16-year-old moved from Uttar Pradesh to Vadodara with her parents when she was a child. Her parents were workers on the construction site of a sports complex when she was chosen for the Pathshala school project. "I don't have many memories of my childhood but I do remember playing on the sidewalks," she says. After joining school at the age of 9, Jyoti's life changed for the better. Not only did she do well academically, but she also became student council leader and sports captain. "She's a born leader," said June Dutta, who leads the Pathshala project.
Jyoti got into football after watching the game on TV and fell in love with the energy and quick thinking it takes. "I played as a striker and scored two goals in the final. I love this sport because it taught me how to play as a team," said Jyoti, who won the player of the tournament award. She lives in the hostel with her sister and two brothers. She aspires to become an IPS officer. "Women face many problems in our society. As a child, I faced them too. I want to stop the harassment of women." said Jyoti.