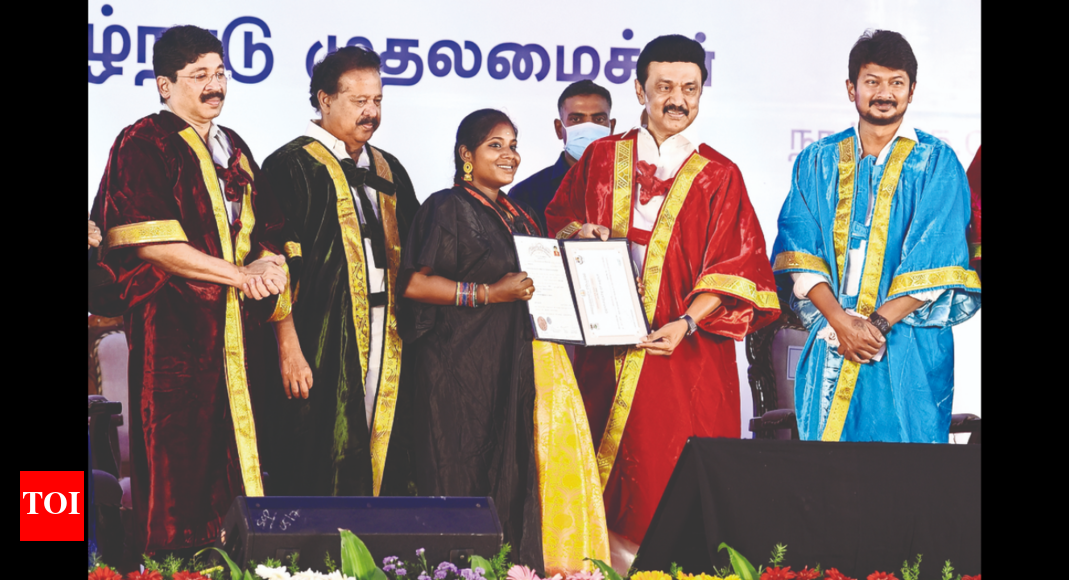 The Presidency College will have an auditorium and a hostel for the disabled | Chennai News
CHENNAI: Chief Minister MK Stalin on Tuesday announced a new 2,000-seat auditorium and exclusive hostel for students with disabilities at his alma mater Presidente College.
Presiding over college graduation day, Stalin recalled his days as a student when, during the emergency, he was brought from prison into police custody to take the exams.
"Although I joined the BA in Political Science on June 15, 1972, I did not focus on studies as I was drawn to politics at a young age while campaigning for the CDM in the 1971 election. When I was arrested under MISA and incarcerated in Chennai Central Jail for a year, I still remember that I came to college under police guard to take the exam," said Stalin.
He urged students not to take him as an example as he was an exception and not the rule. "I urge you to study well. Education is a real asset, which cannot be stolen," he added.
Recalling illustrious alumni of the Presidential College including Dravidian leaders Sir Pitti Theagaraya Chetty and TM Nair, Tamil scholar U Ve Swaminatha Iyer, Nobel laureates Sir CV Raman and Subramanian Chandrasekharand Rajaji, he urged students to follow their path to success.
Pointing out that 56% of newly elected local authorities were women, Stalin asked: "Would that be possible 50 years ago? You have to understand that this is the Dravidian model of governance.
On graduation day, 3,210 students received diplomas in the presence of Higher Education Minister K Ponmudy, Chepauk-Triplicane MP Udhayanidhi Stalin, Chennai Central MP Dayanidhi Maran, Higher Education Secretary D Karthikeyan and the college principal R Raman.