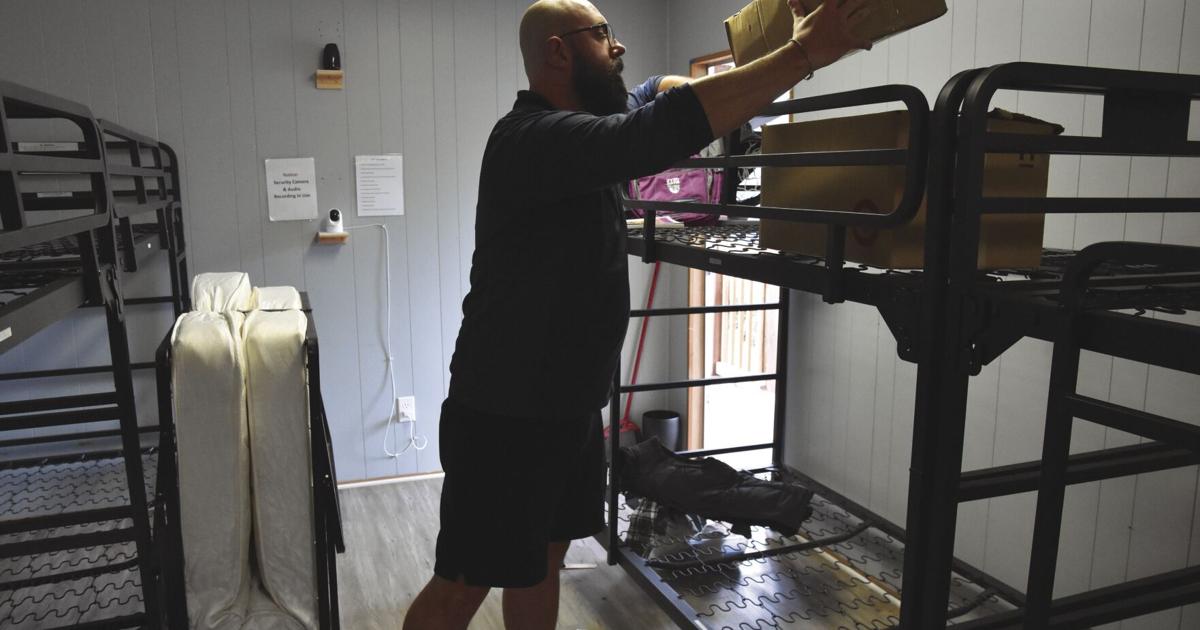 The winter shelter will reopen; need help | New
The Cove Shelter will resume this winter as an emergency site for homeless people in Transylvania County. Brad Snipes, manager of Cove Shelter and pastor of Cove Church, hopes to secure enough funding, workers and volunteers on opening night Nov. 1 to upgrade a second trailer to accommodate women and children.
Snipes said the shelter recently purchased a $15,000 trailer from the Henderson County school system, which was used as a temporary classroom. It is not yet ready for families, as it is not fully assembled, and funds are still needed to install a sprinkler system and equip it with bunk beds.
"Last year we had room for 16 people," Snipes said, pointing to the one-bedroom bunk dorm behind Cove Church on Nicholson Road. "That would add another 26 people."
"We get a lot of moms who are transitioning to a location," he said. "They need a place to go with three kids and we don't have that. This would allow us to accommodate many more mothers with children to be able to stay there. Most of them end up in long-term places – but that transition is the need – and so that would allow us to help with that.
Haven County of Transylvania launched the Winter Temporary Emergency Shelter as Code Purple in 2012. While The Haven offers a longer-term program to obtain permanent housing, emergency shelter differs in that everyone is welcome, each visitor must take all their belongings each morning and can only return in the evening on a first-come, first-served basis.
Last year, Snipes approached Emily Lowery, manager of The Haven, to take over the Code Purple program and name it Cove Shelter.
"It was so difficult for me to find volunteers that I only opened it on nights when the temperatures dropped below zero," Lowry said. "I became a meteorologist during the winter and had to predict when the temperature might drop below freezing and coordinate church opening, meals and staff."
Various churches have hosted Code Purple over the past decade, including its early years at Brevard-Davidson River Presbyterian and St. Phillip's Episcopal, which provided a warm alternative for people sleeping in vehicles and camping in freezing conditions.
"Their hearts are in the right place. and I know that takes a lot of responsibility away from us," Lowery said. "They are able to do this every night from November to March and it's definitely a need in our community."
Snipes said many lessons have been learned from the past year. This year, he hopes to add more structure and increase efficiency by paying five to six workers about $100 per night shift, recruiting more volunteers, and having showers installed.
"We've found that it's very difficult for people to get a job, or even plan for the future, when you don't have a place to sleep at night," Snipes said. "When you're trying to figure out how to get to work, how to shower, what your next home will be like – all while sleeping outside – it becomes nearly impossible. We believe that by addressing this immediate need, we can help them connect to their next resource.
Hot meals are donated and prepared by volunteers each evening with the use of the church's storage room and kitchen.
"A lot of the people we have are people that you would have no idea were homeless," Snipes said. "People have full-time jobs – more than half would set alarms, get up early for work, get to the end of their shift or when they're done working. These aren't people standing in street asking for money. Sure, some might be. But that's not always the image we have of homelessness.
Lowery said it's difficult to estimate the number of county residents who are homeless, and the actual numbers are likely much higher than official data from the North Carolina Coalition to End Homelessness's Point In Time Count.
For 2022, 36 people experiencing homelessness were reported; 15 of them were 17 or younger.
The Cove Shelter "fills the void" on a real need in the county, Lowery said. "It happens every night of the week and we need real walk-in emergency shelter every night of the year, not just when it's cold."
Snipes agreed.
"When you really start to look at your life, you start to realize that we're all just two or three bad times away from being in very similar situations," he said.
"It doesn't take a lot of people to help people," added Snipes, whose congregation is less than 50 people. "You just have to be willing. It takes sacrifice, it takes time, it takes effort, but it doesn't take 400 people. It just takes people willing to look beyond themselves and help My hope is that other churches and other people will say, 'Hey, we can do something too' and either help ourselves or what is the need that God has put on your heart?
For more information about Cove Shelter, call Snipes at (828) 577-6412, email [email protected] or visit www.covechurchbrevard.org.