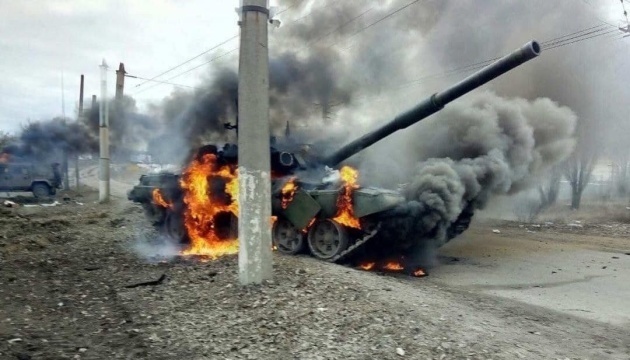 Ukrainian army repels 11 enemy attacks in JFO area
The Armed Forces of Ukraine repelled 11 enemy attacks in the Joint Operations (JFO) area over the past day.
The relevant statement was made by the Joint Forces Task Force on Facebook, reports a Ukrinform correspondent.
Throughout the line of defense, Russian troops used combat aircraft, multiple rocket launcher systems, cannon artillery, tanks, mortar systems, launch missiles and airstrikes on civil infrastructure and residential areas.
The Russian invaders opened fire on 45 settlements in the Donetsk region and the Luhansk region, damaging and destroying 116 civilian properties, namely 106 residential houses, an architectural high school dormitory, domestic buildings of two enterprises, agricultural machinery, a store, etc.
At least seven civilians were killed and eight injured in the Russian bombardment of the Donetsk region. Data on casualties in the Luhansk region have not yet been released.
During the past day, Ukrainian defenders in the JFO area repelled 11 enemy attacks and destroyed six Russian tanks, 10 armored fighting vehicles and six motor vehicles (two of them with ammunition). Ukrainian air defense units shot down an enemy Su-25 aircraft and Orlan-10 unmanned aerial vehicle (UAV).
In general, over the past week, the Ukrainian army repelled 84 enemy attacks in the JFO area. They destroyed a Russian air defense missile system, 43 tanks, 20 artillery systems (including four multiple rocket launcher systems), 79 armored fighting vehicles, seven special armored vehicles and 34 motor vehicles. Ukrainian air defense units shot down three Russian planes and 18 drones.
mk