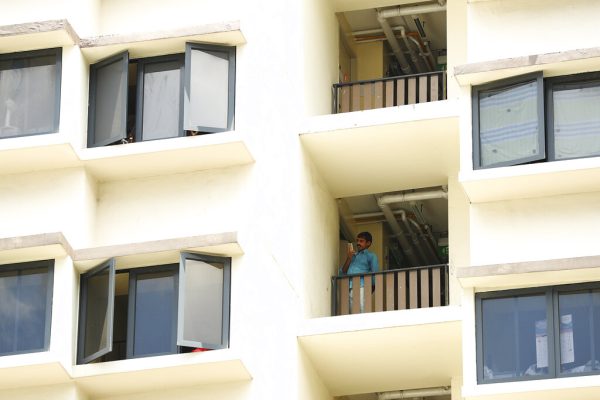 Who can speak on behalf of migrant workers in Singapore? – The Diplomat
On June 22, Zakir Hossain, a Bangladeshi construction worker, announced in a Facebook post that his work permit had not been renewed, leading to an unexpected return to his native country after 19 years of living and working in Singapore. . The decision came from the Ministry of Manpower (MOM), the authority in charge of employment visas of all kinds in the city-state in early June. MOM later released a statement explaining that its decision to end Hossain's legal status in Singapore came after he posted a series of posts it considered "misleading, false or deliberately provocative".
This part of the statement referred to an incident in October last year, when Hossain, under the pseudonym of Amrakajona Zamir, wrote several social media posts equating Singapore workers' dormitories with "camps for work". Hossain's posts drew attention after one in which he called migrant workers "slaves of labour" following an incident at the Westlite Jalan Tukang workers' dormitory.
On October 13, Singapore Police personnel and MOM Forward insurance and support teams were deployed to the site following reports of a lack of medical support and food supplies after several workers tested positive for COVID-19, during what was then perceived to be the height of the pandemic in the city-state. Hossain's post further alleged that riot police were also spotted at the dormitory. The day before, an anonymous video had circulated on Weixin, the Chinese version of WeChat, showing police in riot gear near the dormitory.
At the time, MOM acknowledged that there had been delays in transporting workers who had tested positive for COVID-19 to a designated quarantine facility, which was required for migrant workers living in the dormitories of the government at the time. In its statement following the termination of Hossain's work permit, MOM clarified that although police forces were deployed at Westlite Jalan Tukang, they never surrounded the dormitory or hired workers there, and that no soldiers or armored vehicles were present at the site. MOM further questioned the veracity of Hossain's claims, pointing out that although his message was signed "Westlite Jalan Tukang workers", Hossain had never resided there himself. Claiming that Hossain's October message contained "false statements", MOM pointed out that these "could have incited migrant workers to Westlite Jalan Tukang […]inflamed their emotions and possibly caused incidents of public disorder.
The last part of MOM's statement caused a lot of controversy. Go to Twitter, many Singaporeans drew attention to the opening and closing lines of the last paragraph, which read, respectively: "A foreigner's ability to work in Singapore is not a right" and "[Hossain] overstayed its welcome. The two lines stood side by side with a repeated focus on Hossain's past activism in Singapore, with MOM pointing out that the ministry had "renewed its work several times despite its activism and writings", and that Hossain "was allowed to to work in Singapore for a long time, although he was a lifelong activist.
While in Singapore, Hossain had undeniably become a prominent activist and the leading voice for the city-state's large population of migrant workers. He gained wide exposure when he won the inaugural 2014 edition of the Migrant Workers Poetry Competition, which provides a platform for Singapore's transient workforce, which encompasses construction workers and domestic workers, to write and share their literary work with a general audience. Hossain again won the competition the following year, with a poem expressing his longing for his wife and children in Bangladesh and detailing his life as a migrant in Singapore.
Through his words and his activism, Hossain highlighted the many social challenges facing migrant workers in Singapore, many of which were brought into sharp relief after the COVID-19 pandemic hit the city-state. Independent monitors and local non-governmental organizations (NGOs) have reported shortcomings in worker dormitories in the supply and quality of basic necessities, with reports of 12 to 20 workers sharing a room in some dormitories.
In March 2020, at a time when the pandemic had already spread to most countries around the world, Singapore-based organization Transient Workers Count Too (TWC2) warned of possible virus clusters in workers' dormitories. The subsequent circuit breaker announced by the Singapore government – which involved a mix of stay-at-home orders, partial lockdowns and restrictions on specific social activities – coincided with spikes in cases in migrant dormitories. In his Facebook post last month, Hossain said he had organized monthly distributions of food, masks, hand sanitizers and basic necessities to migrant workers in dormitories and on construction sites, even as he was hospitalized with symptoms of COVID-19.
Government responses included increased access to mental health services for migrant workers, as well as new plans to expand the network of worker dormitories, which are currently concentrated in the outskirts of the city-state, away from the city center. lively and popular tourist attractions. . The decision was presented by co-chair of the COVID-19 task force and current Deputy Prime Minister Lawrence Wong, who stressed the need to better integrate Singapore's foreign workforce into the city's domestic population, and spoke out against a 'no-in-my-garden' mindset. Nonetheless, the decision drew a backlash from some Singaporeans, reflecting a complacency over the socio-geographical divide between locals and foreigners, a concern echoed in the writings of Hossain.
For the first year and a half of the pandemic, migrant workers were largely confined to their dormitories and workplaces, mostly factories or construction sites. In September 2021, MOM launched a pilot program that allowed up to 500 fully vaccinated workers per week to return to the community on days off and holidays. Over the following months, the government introduced a system of exit passes, which migrants had to apply for in order to go out into the community.
While the large-scale easing of COVID-19 restrictions in March this year provided a breath of fresh air for the vast majority of Singaporeans after nearly 2 years of circuit breaker measures, the system of letting -exit pass remained in place for hard-working passengers wishing to venture out of their sleeping quarters.
Exit passes were then halted on June 24, about ten days after the last round of restrictions were lifted in Singapore. Four of the city-state's most popular districts – Chinatown, Little India, Jurong East and Geylang Serai – still require a special pass for passing workers. Applications under the new system, which can now be filed online via a mobile app and are approved almost instantly, are valid all day only on Sundays and public holidays.
As the new online passes roll out, MOM has launched a new gallery dedicated to the contribution of migrant workers to Singapore's development. Manpower Minister Tan See Leng said the Migrant Workers Gallery "symbolizes our appreciation for the contribution of our migrant workers in Singapore and recognizes their resilience in the face of the COVID-19 pandemic." The gallery launch comes exactly a week after MOM announced Hossain's departure from Singapore, providing a stark contrast between the art on display and the reality facing one of the most vocal labor advocates. migrants from the city-state.
Earlier in June, MOM released the results of a survey conducted by the ministry on migrant workers' satisfaction with their working conditions and employers, citing findings of high satisfaction across the board. These conclusions are nonetheless undermined by stories like Hossain's, and call into question the extent to which migrant workers feel free to speak about their experiences without fear of repression.
The juxtaposition of the launch of the Migrant Workers Gallery with MOM's statement and Hossain's critique of activism indicates a clash between top-down and bottom-up narratives of social change in Singapore, with a clear preference for the former over the latter. Genuine recognition of migrant workers' contributions to Singapore's infrastructure development is incomplete without an open platform that guarantees grassroots migrant advocacy and activism. Without this, promoting better integration of migrant workers into Singaporean society will remain a difficult task. For the city's transient workforce, Hossain's case is a reminder that not everyone can defend their rights in Lion City.